Rosenblum Goldenhersh, P.C. congratulates Theresa Phelps, who was recently honored by the Southern Illinois Builders Association ("SIBA") for her work with the SIBA Leadership Development Council ("LDC") over the years as Chairperson and Co-Chairperson.  The Mission of the LDC is to provide opportunities that promote active involvement of the Association's emerging leadership in the construction industry and the SIBA community.  The LDC strives to empower members to interact and exchange ideas, build strong personal and business relationships within the industry, and boost awareness and input for the services, support and networking provided to SIBA members now and in the future.
ANNOUNCEMENT FROM THE SIBA:
SIBA LEADERSHIP DEVELOPMENT COUNCIL CHAIR RECEIVES PLAQUE FOR SERVICE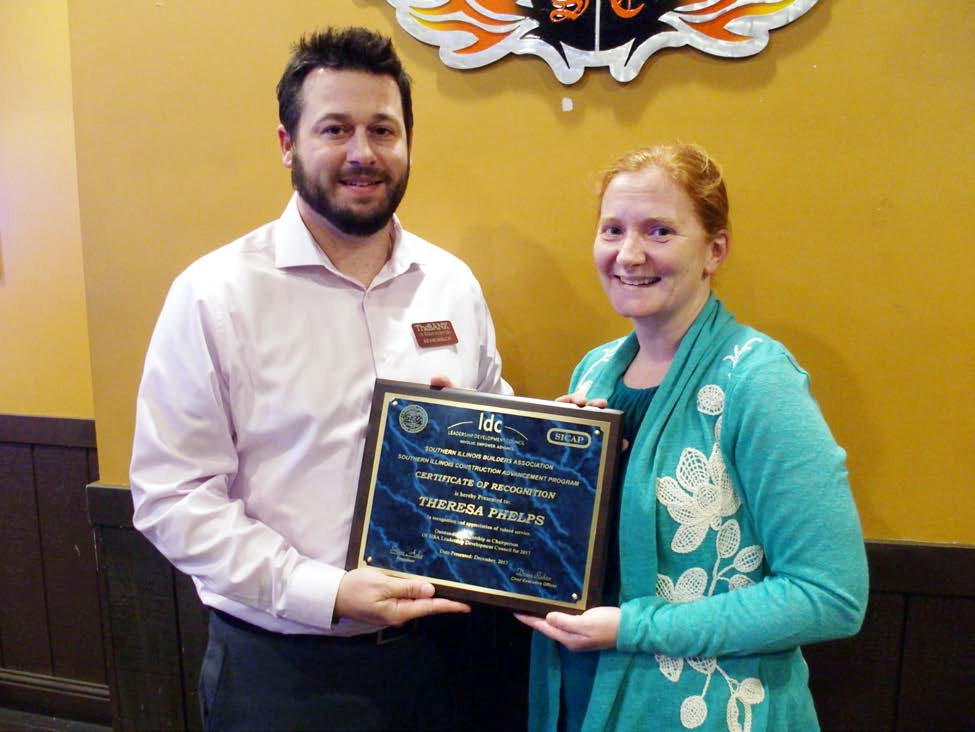 Theresa Phelps (right), 2017 Chair of the Leadership Development Council, is presented with a plaque for her service by Kevin Welch, LDC Co-Chairman (left)
At the December meeting, Theresa Phelps was presented with a plaque for her year of service as Co-Chairperson and year as Chairperson of the SIBA Leadership Development Council.
Theresa is an Attorney with Rosenblum Goldenhersh in Clayton, Missouri. Theresa has been an active part of the LDC since its formation in 2015.